​
​
Kieran McKeown, Matrix Recruitment's Managing Director, below gives an introduction to this year's Salary & Market Research Guide.
2022 Salary Guide Introduction
When researching for our 2022 salary guide, we looked at each job category we focus on and gave insights and trend predictions for each one.
This time last year we talked about how COVID-19 had dramatically impacted the recruitment sector and we set our sights on what would hopefully be a brighter 2021. At the time, we had seen some notable changes following a freeze in recruitment for permanent roles as companies grappled with a new business landscape that saw a need for contract and temporary workers above all else.
Fast forward 12 months and we are seeing further changes, some we had anticipated others, well, who could possibly have foreseen all the changes of the past 20 months! Many businesses continue to struggle to get back on their feet having been affected by the COVID-19 pandemic in some way.
Remote working is no longer something we are adjusting to, but something that has become second nature. Many employees have had a rethink on their priorities and many more are rethinking their career choices with our research this year showing 43% of Irish workers are not happy in their jobs.
What the future holds, is still uncertain as the country is still living with restrictions, including a directive to work from home where possible while teetering on the edge of another potential lockdown.
As we launch our 2022 Salary Guide, we want to acknowledge where we are in terms of the employment market and where we are going in the 12 months ahead. As the landscape continues to evolve it remains impossible to predict all the changes that will occur but we hope that our insights will give clients and candidates some guidance as we move into a new year.
As we move into 2022, Matrix Recruitment promises to continue to work closely with clients and candidates to achieve the best possible outcome for both. We can advise and assist during the recruitment process, for both permanent and temporary recruitment assignments. At Matrix, we specialise in you.
Wishing you good health and good fortune in the year ahead,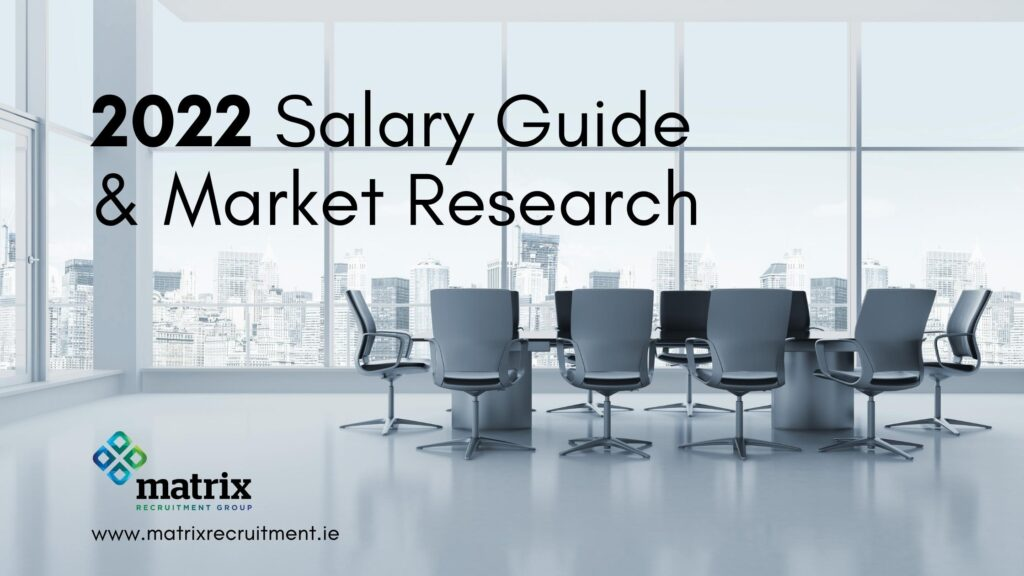 ​